Un groupe américain ? Français ? ou irlandais ?
An American band? French? Or Irish?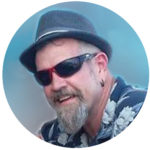 TBone Kelly
Chanteur/compositeur, guitariste et harmoniciste, né à Chicago. Après plusieurs vies à travers les USA et l'Asie, TBone a choisi l'Europe. D'abord l'Irlande de ses ancêtres, où il s'est forgé une solide réputation de bluesman, puis la France où il s'est installé en 2007.
Singer/songwriter, guitarist and harmonicist, Tbone was born in Chicago to Irish parents. After living and working across the US and Asia-Pacific, he settled in Europe; first in Ireland, then le Gers, France in 2007, where he has built a solid bluesman reputation, and resides when not on tour.
Gilles Roger
Bassiste, percussionniste, chanteur et photographe-acrobate aérien, né en Normandie. Guitariste pendant une décennie dans le circuit professionnel du heavy metal au Canada. Comme son acolyte, vit à présent dans le Gers.
Bassist, percussionist, singer and aerial photographer, Gilles was born in Normandy, France. A respected professional bass guitarist for over a decade on the heavy metal circuit in Canada, like his sidekick, he now lives in le Gers when not touring.
L'âme damnée du blues habite la musique de Crash Test Tapas, mais leur terrain de jeu ne se limite pas aux archétypes du blues.
TBone Kelly et Gilles Roger, les piliers de CTT ont l'esprit musical suffisamment ouvert pour ne pas se laisser enfermer dans un seul genre. Outre la couleur du blues, celle du rock électrise leurs guitares mais s'éclaircit à l'écoute de la voix de Tbone. Une voix envoûtante et chaleureuse qui pourrait vous chanter une berceuse sur des power chords.
Le groove de ce groupe atypique, rehaussé d'une pointe d'humour, dégage une énergie hautement contagieuse, c'est de la musique qui fait du bien ! Suivez la prescription du docteur Tbone : remplacez illico vos pilules bleues par le blues anti-déprime des Crash Test Tapas. Un seul risque : l'addiction !
The heart and soul of the blues is kept alive in the music of Crash Test Tapas, but their playground is not limited to typical blues covers.
From the vaults of TBone Kelly and Gilles Roger, the pillars of the CTT, a vast variety of blues-rooted music is offered. From country, blues and jazz standards, to rocking originals and covers from the best 60s and 70s blues rockers, you'll hear the driving power of Gilles' percussion and bass, and Tbone's haunting and warm voice that could sing you a lullaby on power chords.
The groove of this atypical band, enhanced with a hint of humor, puts out a highly contagious energy, always suited to the situation! Dr. Tbone's prescription: Cure your blues by grooving to ours! But beware, it's addictive!