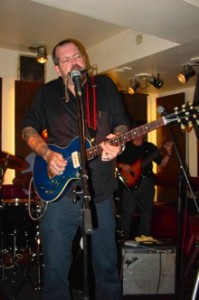 Straight outta Chicago, Tbone Kelly has been a rollin' stone, livin' the blues and lovin' it for thirty five years and counting.
Chicago, Illinois,  USA, 1957, James J. Kelly enters stage left to a house brimming with music.  With three piano-playing sisters, an Irish gospel-loving pianist mother and a Chicago piano-playing father, not a day goes by without the sounds of music, and the jazz and blues of those Southern doves who flew north seeking work and fame in industrial Chicago.
For a young suburban Tbone, gospel great Mahalia Jackson is a frequent friend on the radio and television, as are the now late greats Muddy Waters (who lived only miles from the family home), Ray Charles, and Ramsey Lewis.
Tbone recalls as a young boy in the sixties being completely moved by Miss Jackson singing at John F. Kennedy's presidential inauguration, and then again at his funeral following his assassination. "Soul is soul, regardless of musical style, and I got to hear the gospel, jazz and blues I knew as a young boy evolve into the rock and soul sounds of the sixties. When Janis Joplin and Joe Cocker started getting big, I knew music is what I wanted to do."
Considered too 'rowdy' for piano lessons, 'Jimmy' got his first guitar at the age of ten from his grandfather from Ireland, a gift bought from years of collected merchandise stamps in Chicago.  From then, it began. Starting at his freshman high school dance at 15 years old, he went on to play his way across the globe, from Chicago to Honolulu, and in festival circuits and bars across Asia and Europe.
Tbone earned his nickname while working at various music companies around Chicago, including Purdom's and the famous Monte's Music outside Chicago, (sometimes running the shop while boss Dennis Monte toured with his band).  He continued working in various positions in the music business, and was a  'gofer' for Chicago's The Briteset and The Emil Monte Orchestra.
At 16 he spent a summer at Jack Checcini 's Guitar Studio shop, while selling and trading high-end guitars to some of the blues cats on the scene, including Bumble Bee Bob from Chicago Slims Band, learning what he could from these stalwarts.  Tbone eventually grew into the nickname, which started out as a joke from his fellow shopworkers.
After joining the US Navy in 1975, T-Bone sat in at every blues session he could find, from Manila to Japan, Tasmania to Taiwan, a singing chef on a sea-going tug ship; standing Sea of Vietnam refugee searches when not cooking for the crew or working on the ships salvage crew in the late 1970s.
Tbone  got out of the Navy in 1983 and resettled in Hawaii to be a father, musician and professional social worker. It was here that he began performing professionally as Tbone Kelly.  "I formed The Shades, with the soulful Chicago singer Anna Lewis. We had 2 doo-da-doo sisters, and a full horn section. After two years Anna left, the day before we played to 6000 people at Aloha Stadium.
We were the entertainment for the Hawaiian Islanders baseball team. It was a promoters gimmick, as the team weren't drawing crowds anymore. So we went out to 6000 people on live television, as Tbone Kelly and the Shades, and the media were very good to us in their reviews.  That's when it really started taking off."
Kelly continued to perform on Honolulu's blues circuit, but never stopped his academic pursuits, working in Child Protection, and later in Hawaii's Prisons.
"In the late 80's  I was asked to put together a pickup band for Bill Haley and the Comet's guitarist Nick Masters, who was semi-retired there, and did a yearly Easter Seals Charity television show. He was something of a legend in town, a hero of mine, and I was greatly honored to perform with him. The band for these television shows with Nick was called The Duck Soup Blues Band, and he even let me do some of my original tunes on the air. We did five years together on Honolulu television before he died of cancer in 1995. Every gig I play, I think of him."
Shortly before finishing his PhD, Tbone was asked to front a tribute band called The Stran?ers  ( Yes, with the question mark!) playing the British-invasion blues of the Rolling Stones, Kinks, The Who and The Animals.  They worked together for 2 years, playing everything from corporate gigs to pubs, the St. Patricks Day Street Party (one of the biggest in Honolulu), opened for The Fleshtones at the Andrews Ampitheatre, and the Rolling Stones IMAX film…
They recorded and performed at the Honolulu Blues Festival in 1992 and their cover of Cadillac Walk got airplay in the islands and around the US mainland, including New York. " That record still pops up, I once found it on a jukebox in the middle of Belgium! We were doing pretty well, until our guitarist Rick Smith got a great job as a roadie with the Honolulu Symphony, so we formed Tbone Kelly and Tattoo Bleu, and played under that name until I moved to Ireland."
The BoneAlone Band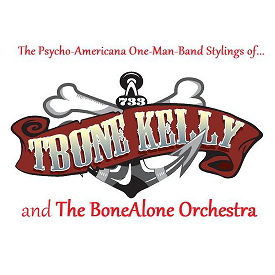 After moving to Dublin in 1997, Kelly was gigging all over town as a solo act within a week.  He later fronted Louis Lee Blues for a year, then the Travelling South Blues Band,  while continuing the solo gigs around Dublin, and by now on the European continent. He has twice performed at the Wexford Hooves n Grooves festival, in the town he once won the Wexford Opera Festival's Singing Pubs contest. ( "I won a Guiness singing pubs contest the first week I was in Ireland, couldn't have been prouder…I still have the pewter cup!")
He has busked at the Inter-Celt World Celtic Music Festival in Brittany, sold a stack of demo cd's, and made the local papers and evening news there. He has since played in Berlin, Paris, Amsterdam, Brussels and around the south of France.  In 2000 he produced an esoterica and poetry cd over original improvised blues and jazz tracks entitled DRUIDBONE; Cast an Irish Circle, and in 2005 released Tbone Kelly, No Expectations; a collection of various styles, featuring Rolling Stones and Tbone's original blues covers.
In 2013, Dr. Kelly closed his Dublin psychology practice and headed for the South of France in his 1957 Paris taxi, where he tours and plays full-time as the one man band The Bone Alone Orchestra (l'Homme Orchestre), covering all of his personal musical history around the European continent…
The BoneAlone Orchestra is the One Man Band project of Tbone Kelly. It features a mix of guitars and musical styles, harmonica, a variety of percussion and other surprises. The music ranges from primitive hard core slide guitar blues, to jazzy/bluesy interpretations, country and urban inspirations, original music and general psycho-Americana.
Influences include early jazz, blues, country and rock standards, Muddy Waters, Seasick Steve, Bob Log III, Southern Culture on the Skids, Rev. Horton Heat, Rolling Stones, Loudon Wainwright III, Joe Cocker, Janis Joplin, and Leon Redbone. The vibe can be adjusted from a mellow dinner background, to a wilder rowdier bar room brawl. The act has been comfortably customized to fit everything from restaurants, casinos and weddings, to bike shows, cars shows, rock bars and music/art festivals; on the main stage or as an opening act.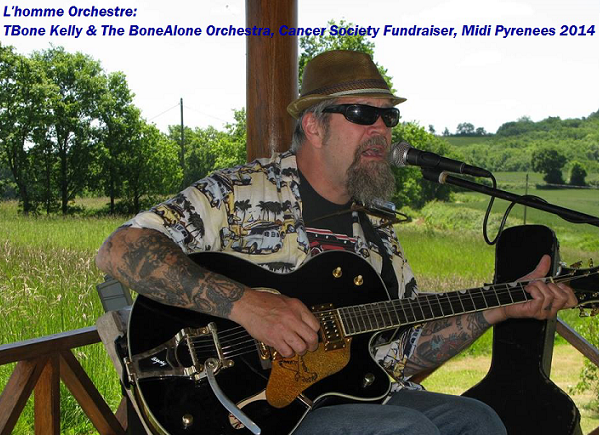 The BoneAlone Orchestra (BAO) c'est un nouveau one-man-band (l'homme orchestre) projet de Tbone Kelly de Chicago, USA, le vétéran de 15ans pour la scene des Blues de Dublin mais aussi en Europe (en France, Belge, Allemagne) occasion de festivals de musique et des artes. La combinaison de tambours, divers style de guitare, de l'harmonica, les harmonies vocales sont utilisées dans des interprétations originales de classiques blues, jazz, rock et country. Influencé par Seasick Steve, Bob Log III, Southern Cullture on the Skids (S.C.O.T.S.), et des années de travail avec des groupes bien connus (et d'autres moins bien connus), "Le BAO" joue des chansons pour tout le monde sous la denomination de Unpure Psycho-Americana!
En Francais